AgilePM® Project Management Foundation Practice Exam
Prepare for your APMG AgilePM Project Management Foundation Certification with this mock exam.
AgilePM Project Management Foundation Practice Exam​
30-Day Money Back Guarantee
Included in This AgilePM Exam Package:
Multiple choice format
50 Questions 
25 Marks required to pass (out of 50 available) – 50%
40 Minutes duration 
Closed book
Multiple choice format
25 questions
Prepare well for the valuable AgilePM® foundation exam with this practice exam. Since the questions are based on the official Key Learning Points that the APMG exam also examines, this mock exam greatly helps by improving the chance you will pass the official exam. The questions are clustered per exam subject so that you gain insight into which parts you have mastered and which parts you need to study further. 
The mock exam includes a detailed explanation of why which question is correct. The questions are also clustered per chapter. This means that after making the exam, you have immediate insight into which domains you manage well and which still deserve attention.
After completing this test you are well prepared for the AgilePM® Foundation exam!
Who This AgilePM Exam Is For:
Anyone who wants to pass the AgilePM®Foundation exam
I was worried that the questions were same as per APMG own sample question and very happy to find that were now same questions. Layout of the mock same as per APMG, which is fantastic. Have passed all mock exams I've taken so fingers crossed will pass real one too.
I passed the exam with a score of 87,5%! Thank you!
The exam is quite difficult, but the practice exam helped me to prepare since I got used to the type of questions they asked. Some questions even turned up on the real exam!
How to book the AgilePM exam
You can book the AgilePM Exam via the website of APMG International. The cost for the exam is € 337,-, so make sure you score at least 90% at the practice exam. If you score 90%, you should be able to pass the real exam.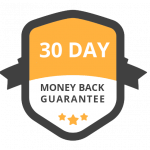 30-Day Money Back Guarantee
We are committed to quality. Don't like the product? Let us know and we will reimburse you. No questions asked. 
Try Free AgilePM Practice Exam
Try the first 10 AgilePM® Exam questions for free! Register below to get access to the free practice exam in our online personal learning environment.